Brands
The Leaders of Design & Innovation
Meet the companies that we call partners. They form the foundation of our product specifications thanks in part to their best-in-class performance, breadth of product offering and ongoing technological innovation.
Experience personalized control for your unique lifestyle with the power of Salt Lake City-based Control4. Connect virtually any device in your home or business to work together, and command them all with customized one-touch controls and scenes from your system remote or smart device of choice. Whether you're home or away, Control4 gives you the power to command and monitor your estate or business in one platform. The transformative benefits of a smart connected home and business with Control4 delivers convenience, peace of mind and an efficient environment that's comfortable and safe.
DMF is a nationally renowned company famous for designing and manufacturing easy-to-use downlighting solutions for residential and commercial environments. 30 years after it was founded out of a garage in southern California, it now boasts a national chain of warehouses and suppliers to deliver stellar LED lighting solutions wherever they're needed. Having the right light quality is vital to creating successful environments for work, relaxation and play. Easy-to-use OneFrame, SquareFrame and DCD modular mounting systems allow for varied designs featuring recessed, surface mount, wall mount, cylinder and pendant fixtures. Enjoy the perfect indoor and outdoor lighting for any occasion with fixtures ranging from 750 to 9000 lumens and warm dim technology that lets you enjoy the entire light spectrum of cool and warm hues.
Elevate your expectations of home entertainment with Samsung's most innovative and advanced range of televisions that offer an impeccable visual and auditory experience for film and gaming enthusiasts alike. Samsung's proprietary Quantum Processor is the mastermind behind their unrivaled QLED 4K, 8K, and Terrace TVs that display a depth of detail, contrast and realism never seen before. Even when not in use, Samsung Frame TVs add beauty to your home by transforming into framed artwork or blending into the decorative pattern on your wall, elevating your space while turned on and off.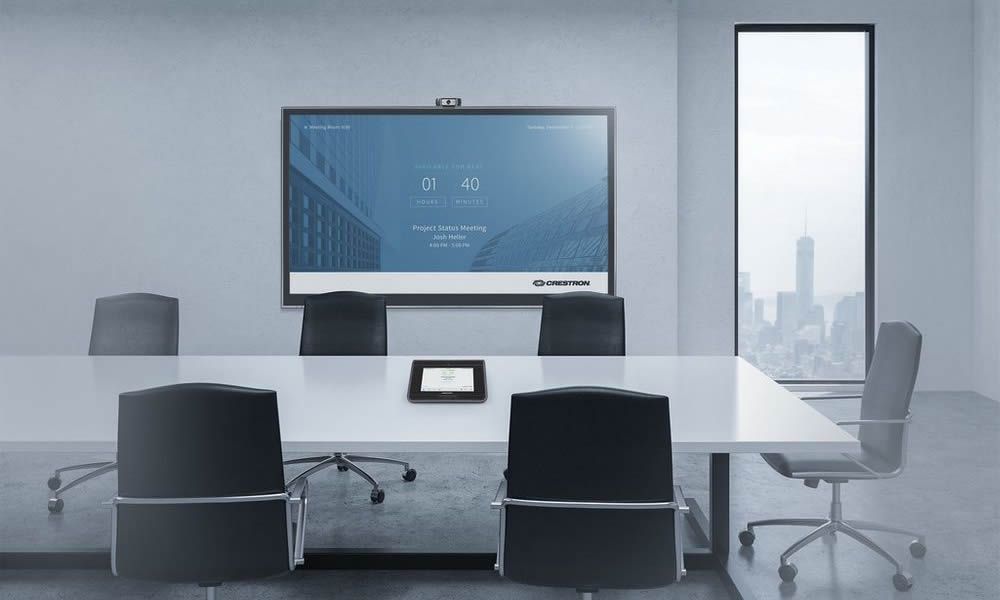 Bring your smart home dreams to fruition with one-touch control of your entire estate from an intuitive touch panel, custom-engraved keypad, smartphone or by voice activation. Crestron automation and control reveals your home or business' true potential with programmed scenes that instantly adjust your lights, shades, thermostat, audiovisual electronics, security system and more—all at the lift of a finger. Custom-tailored for any home, workplace and lifestyle, Crestron is truly the pinnacle of invisible comfort and convenience and takes pride in designing and manufacturing their products in America.
Discover the height in high-performance sound with JLB Synthesis loudspeakers trusted by recording artists worldwide. Since its foundation in 1946, the Los Angeles-based company has been at the forefront of some of the greatest advancements in home audio and surround sound. In collaboration with LucasFilm engineers, JBL pioneered surround sound through cutting-edge THX technologies. Its loudspeakers combine horn-loaded compression drivers, titanium tweeters and precise crossover networks for the most accurate sound reproduction. Varied speaker lines include floorstanding, bookshelf, in-wall and in-ceiling models ideal for any space. Ensure the ultimate quality by pairing speakers with JBL amplifiers available for high-performance and multi-channel configurations. For top-tier sound in any environment, all loudspeakers include the company's ARCO software. This room correction technology offers the ideal calibration and placement to ensure everyone in your theater or listening room gets the same high-level sound.
Bespoke sound solutions from Triad stand apart in an audio industry filled with cookie-cutter products. Relish in superior sound with their high-end architectural speakers designed to integrate elite sound reproduction into luxury living environments. Expertly designed, hand-crafted and installed, Triad audio solutions are ideal for any application ranging from 2-channel to immersive surround sound. All their speakers are built-to-order at their Portland facility to deliver exactly what you need while showcasing all their latest audio technology. Designed using European drivers used by only the top manufacturers in the world, Triad offers the best performance and value. Enjoy a wide range of models available, from their flagship loudspeakers to their more discreet in-wall and in-ceiling varieties.
LumaStream low voltage LED lighting systems transform smart spaces into brilliant spaces with premium quality fit-and-finish lighting fixtures compatible with a wide range of control systems, such as Control4, Crestron, Lutron and more. Florida-based LumaStream has provided the lighting industry's most sustainable intelligent LED lighting systems for commercial, residential, hospitality and outdoor lighting applications since 2010. Craft the vision of your dreams with LumaStream's vast assortment of fixtures and enjoy smooth dimming and full control of Kelvin temperatures for custom-tailored colors. With LumaStream, lighting is more energy efficient, simpler to install and easier than ever to control.
Developing innovative, high-quality products for its customers is Hunter Douglas' primary mission. Founded in 1946 after creating the first aluminum blind, Hunter Douglas has revolutionized the window coverings industry over the past five decades. Over the years, Hunter Douglas has refused to sacrifice style for function. Designed with aesthetics in mind, their window coverings also provide lighting control, insulation, protection from UV rays and energy efficiency. Shades are available in sheer, cellular honeycomb, roman, roller and woven wood varieties. If you want to move away from traditional roller shades, Hunter Douglas also offers shutters, vertical blinds, wood blinds, metal blinds and drapes. Scheduling your motorized window treatments to open at sunrise or close midday to protect your home from overheating has never been easier thanks to PowerView Automation, Hunter Douglas' powerful programmable operating system that also integrates beautifully with many smart-home systems. 
Relying on over 30 years of experience, Planar delivers reliable, technology-forward solutions to the most common significant display challenges. The Oregon-based company eschews the razzle-dazzle of many display manufacturers and focuses on what matters most: functionality. Understanding how you want to use the technology and where you place it is vital to creating solutions that let your company shine in visual-heavy industries where display performance is critical. Planar offers stellar LCD and LED video walls, 4K LCD displays, touch displays and desktop and touch screen monitors. You can find Planar products in airports, hospitals, ATMs, retail stores and even residential applications throughout the world from San Francisco to Shanghai. 
Developed by a former home electronics integration company in 1999, TruAudio is purely committed to custom audio products. Not only do their speakers blend seamlessly into your décor, but they deliver high performance for home theaters and whole-home audio applications. Optimized with only proven materials like woven carbon fiber, titanium, aluminum and polypropylene, each speaker is tested to ensure it delivers unrivaled sound quality. Any length, depth or color soundbars are possible with TruAudio's TruCustom team of audio engineers. Home theater speakers include in-ceiling and in-wall models to deliver powerful surround sound that perfectly fits the room aesthetics. Enjoy your favorite entertainment al fresco with their landscape speakers, outdoor soundbars and patio speakers. 
Nature is in your control with Universal Screens' shading solutions that protect you from pests and sunlight so you can enjoy your outdoor spaces for hours at a time. Founded in 2013 in Plano, Texas, Universal Screens' primary mission is to create four-season outdoor spaces for homes throughout the country. Deploy their outdoor screens to protect from weather, sun and bugs without obstructing the beautiful views from your patio, porch or balcony. Their MotionScreen models are available in seven different colors and a vast array of fabrics, depending on the visibility and UV protection you want from your system. Cable-guided systems are available for trickier applications, while for large outdoor areas, the Arion shading system provides resistance and durability while offering the aesthetics of an interior shade.
Start Your Journey to Smarter Living
Connect with us to learn more about how these industry-leading brands work together to create your dream smart home or business.